Not Big, But Definitely Clever - Introducing the TrueUtility® Telepen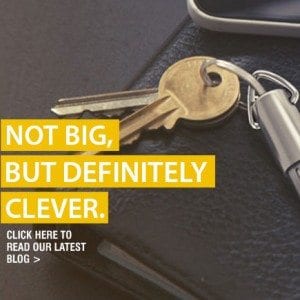 Some of the most popular products that we produce have to be the telescopic pens for which we now have several in our range. However, as we always like to raise the bar with all of the items we design, we have brought you another one, and it's even better than before. Introducing the small telescopic pen: 
Telepen
.
FEATURES
- Ball point pen - Telescopic (<100mm) - 3x refills included (black ink) - Magnetic cap - V-clip keyring attachment built into the lid If you're anything like me, then you will have experienced a time when you are on the phone and you need to write down a number. Except the only thing is, you can't find a pen, so you carry on regardless trying to keep the information in your mind, and then despite your efforts, you forget it. It is scenarios just like these that the TelePen eliminates. With your TelePen attached to your keyring, it will always be at your side, ready to use when you need it as a handy, small telescopic pen.
TECH SPEC
- Brushed stainless steel tubing, anodised aircraft grade aluminium body - L50mm (closed) x L115mm (open) The TelePen has been crafted with functionality and elegance in mind. Brushed stainless steel tubing is encased within an anodised aircraft grade aluminium body. The pen fully extends up to 140mm and has a truly luxurious feel when in hand. The pen is firmly secured to your keyring when not in use thanks to the strong magnetic lid. So as you can see, it isn't very big, but it definitely is clever. You can learn more about and order the
Telepen here
.
---