KEYRANGER® Secure, neat, organised.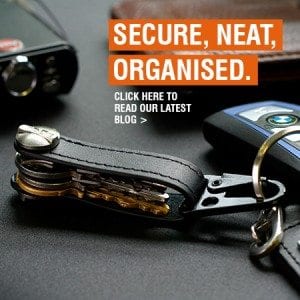 Say hello to a new era of everyday carry essentials. The Connect range has been designed to better connect you and your essentials, and the
KEYRANGER
 does exactly that, working as a key organiser. Say goodbye to bulky, noisy and unpractical keyrings. Keep your keys safe, neatly stacked and looking great with the KEYRANGER. Arrange your keys into a neat stack to eliminate scratches on your other belongings, and rustling inside your pocket when on the move. Nine times out of ten we see huge bulky keyrings with keys that won't be used for months or years at a time. When using the KEYRANGER, we really try to promote minimalism. Attempt to reduce the amount of unnecessary items on your keyring and keep only the most important ones. Hold up to 4 keys securely inside the genuine leather protective casing. For all those odd shaped accessories or car keys, simply clip them onto either the military style carabiner clip gate, or the split ring loop hole. Manufactured to a quality unlike any other, every last detail has been carefully considered, from the 420 grade stainless steel hand tightening tension bolts, all the way down to the finding the perfect thickness of the genuine calf hide leather. Carry the KEYRANGER wherever and whenever you need it, ideal for travel buffs, commuting or anyone looking to upgrade their keyring to something sleek, modern and functional. This is the key to simplicity. Connect better to your everyday carry with the
KEYRANGER.
---